11-year-old golfer Lucy Li from Redwood Shores at the 2014 U.S. Open
Are you kidding me??
At the Half Moon Bay Golf Links, where the latest wunderkind in women's golf sometimes practices, general manager Bill Troyanoski recalled with some amusement the first time he ever heard of Lucy Li.

It started with a pair of complaints, one last year and another earlier this year, about a "young lady" taking forever between shots. Upon the second complaint, Troyanoski headed out to the course to see for himself.

What he saw was indeed slow. And also remarkable.

"I don't know that I've seen anybody practice more intensely and passionately at any level -- I mean any level -- than Lucy," Troyanoski said.

While she takes her time on the course, Lucy is getting places faster than anyone in the history of women's golf. The kid from Redwood Shores earned her way to this week's U.S. Women's Open at age 11, making her the youngest qualifier ever.

"It's pretty amazing, but I try not to think about it," Lucy said Tuesday during a press conference in Pinehurst, N.C, where the tournament begins Thursday. "I'm just another player, just trying to do the best I can."
She's better at golf at 11 than I will ever be:
http://espn.go.com/espnw/news-commentary/article/11100361/espnw-michelle-wie-relate-11-year-old-open-qualifier-lucy-li
And she giggles. A lot.
http://blog.sfgate.com/ongolf/2014/06/17/lucy-li-giggles-her-way-across-the-stage-at-u-s-womens-open/
I love her style, and her laugh, she's going to shake things up ;)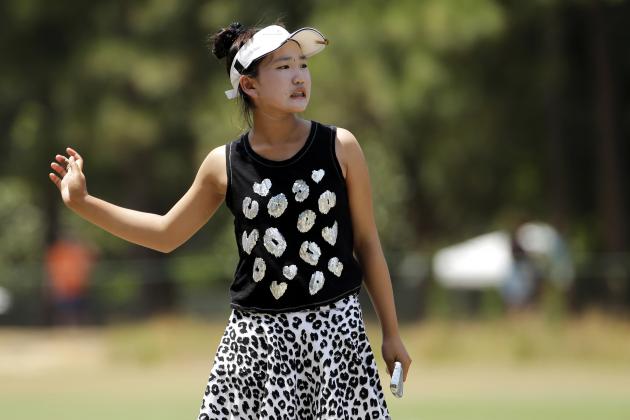 She plays so well that it's easy to forget she's 11!
Still, nothing about her parents suggests she could be a world class golfer!
Yep, but their background does show dedication to what they pursue ;)  and intelligence does play some part in sports, put equals in talent up against each other, and if one is smarter, that one should win.
Those are really good points. It will be exciting to watch her grow!