Is mindfulness making us ill?
It's the relaxation technique of choice, popular with employers and even the NHS. But some have found it can have unexpected effects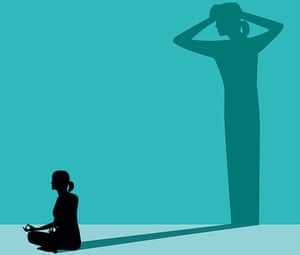 http://www.theguardian.com/lifeandstyle/2016/jan/23/is-mindfulness-making-us-ill
It's scary but some people seem to have genuinely adverse reactions to mindfulness and meditation. 
Research suggests her experience might not be unique. Internet forums abound with people seeking advice after experiencing panic attacks, hearing voices or finding that meditation has deepened their depression after some initial respite. In their recent book, The Buddha Pill, psychologists Miguel Farias and Catherine Wikholm voice concern about the lack of research into the adverse effects of meditation and the "dark side" of mindfulness. "Since the book's been published, we've had a number of emails from people wanting to tell us about adverse effects they have experienced," Wikholm says. "Often, people have thought they were alone with this, or they blamed themselves, thinking they somehow did it wrong, when actually it doesn't seem it's all that uncommon."

One story in particular prompted Farias to look further into adverse effects. Louise, a woman in her 50s who had been practising yoga for 20 years, went away to a meditation retreat. While meditating, she felt dissociated from herself and became worried. Dismissing it as a routine side-effect of meditation, Louise continued with the exercises. The following day, after returning home, her body felt completely numb and she didn't want to get out of bed. Her husband took her to the doctor, who referred her to a psychiatrist. For the next 15 years she was treated for psychotic depression.

Farias looked at the research into unexpected side-effects. A 1992 study by David Shapiro, a professor at the University of California, Irvine,found that 63% of the group studied, who had varying degrees of experience in meditation and had each tried mindfulness, had suffered at least one negative effect from meditation retreats, while 7% reported profoundly adverse effects including panic, depression, pain and anxiety. Shapiro's study was small-scale; several research papers, including a 2011 study by Duke University in North Carolina, have raised concerns at the lack of quality research on the impact of mindfulness, specifically the lack of controlled studies.

Farias feels that media coverage inflates the moderate positive effects of mindfulness, and either doesn't report or underplays the downsides. "Mindfulness can have negative effects for some people, even if you're doing it for only 20 minutes a day," Farias says. "It's difficult to tell how common [negative] experiences are, because mindfulness researchers have failed to measure them, and may even have discouraged participants from reporting them by attributing the blame to them."
Sounds like it's a good idea to proceed with caution.