Live-streamed funerals: the rise of the virtual mourner
The rise of the live-streamed funeral has generated a certain amount of worry over potential negative consequences. Paul Allcock, president of the Society of Allied and Independent Funeral Directors, said streaming is "wonderful for those relatives who live abroad, but there's also a danger of pandering to people's laziness and not attending personally and sharing your condolences, which is such an important part of the grieving process".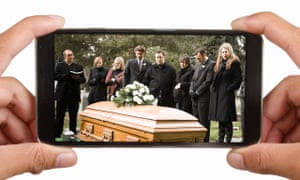 https://www.theguardian.com/lifeandstyle/shortcuts/2016/oct/03/live-streamed-funerals-virtual-mourner
It's no substitute for being there in real life but it's better than not being there at all.
I did this once :/ Not my proudest moment, but it made sense at the time.
I saw my first live streamed wedding this week. Not proud but made sense.