US military successfully tests electrical brain stimulation to enhance staff skills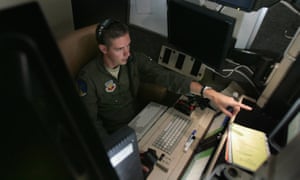 Performance of military personnel can slump if the demands of the job become too intense. The study found that electrical brain stimulation can stave off the drop in performance. Photograph: Christian Science Monitor/Getty
https://theguardian.com/science/2016/nov/07/us-military-successfully-tests-electrical-brain-stimulation-to-enhance-staff-skills
Stashed in: Brain, Awesome, Military!
To save this post, select a stash from drop-down menu or type in a new one:
"The successful tests of the devices pave the way for servicemen and women to be wired up at critical times of duty, so that electrical pulses can be beamed into their brains to improve their effectiveness in high pressure situations.
The brain stimulation kits use five electrodes to send weak electric currents through the skull and into specific parts of the cortex. Previous studies have found evidence that by helping neurons to fire, these minor brain zaps can boost cognitive ability.
The technology is seen as a safer alternative to prescription drugs, such as modafinil and ritalin, both of which have been used off-label as performance enhancing drugs in the armed forces." 
"If the technology is proved safe in the long run though, it could help those who need it most, said Levy. "It may have a levelling-up effect, because it is cheap and enhancers tend to benefit the people that perform less well," he said."
This is the Pandora's Box – with 'enhancers', the base level then goes up, and so more and more people will be performing 'less well' – thus more use of enhancers.
If only we had known how wrong the human design was before, electrically, we could have been shocking people's brains much earlier. 
Makes me wonder if we were really meant to shock ourselves.