After Sochi: What To Expect At the PyeongChang 2018 Olympic Winter Games
To save this post, select a stash from drop-down menu or type in a new one:
Say goodbye to the palm trees, Russian Vodka and the Sochi 2014 Polar Bear mascot; say hello to snowy and chilly weather, Korean Soju and yet-to-be-named mascots.
Will it be winter?
The Opening Ceremonies of February 9, 2018 will very likely be amid snow and cold.  PyeongChang, in Korea's Gangwon Province, is located in the Taebaek Mountain Range between 700 and 800 metres above sea level.  The February daily mean temperature is below -5 degrees Celsius with daily highs rarely above freezing.  And yes, there is plenty of snow.
In 2011, just prior to the February 15 arrival of the International Olympic Committee (IOC) to evaluate PyeongChang's bid, close to 100 cm of snow fell across Gangneung and major accumulations covered all venue locations surrounding PyeongChang.  Military personnel were called in to help clear the snow.
Is it all built?
The construction effort for the PyeongChang 2018 Games will be significantly less than what was required for Sochi.  Leveraging prior development and temporary venues – organizers will spend about $7 billion.
To be fair, planners in Gangwon Province spent millions of dollars on venues to prepare for the Olympics even prior to being awarded the Games.  PyeongChang unsuccessfully bid for the 2010 and 2014 Games, but during the bid campaigns organizers promised the IOC that some venues would be built anyways in order to develop winter sport in the region.  Though this rhetoric is common among bid campaigns, the Koreans delivered and earned the trust necessary to win their bid for 2018 Games.
The build was significant and included a ski-jump tower and stadium, biathlon and cross-country venues and the complete Alpensia sports resort that provides accommodations for guests and the Olympic Family, as well as space for the sliding facilities.
Six mountain cluster venues already exist and only two – the alpine downhill and sliding track – are under construction.
In the coastal cluster the curling venue already exists as a community skating rink and will be refurbished for the Games.  Four new ice rinks will be built for hockey, figure skating and speed skating that will leave a valuable legacy in the town known for its national university, and become a training centre for South Korea's powerful speed-skating team.
While the plans are very compact compared to many previous Winter Games, most venues are not easily walkable like those in Sochi's ultra-compact coastal cluster – that's what $51 billion buys. 
Although there is a small international airport nearby, most travellers will be serviced by Korea's Incheon Airport close to Seoul.  On the west coast of the Korean Peninsula, Incheon is at least three hours by car from PyeongChang and four hours from east coast Gangnueng.  But under construction for the Games is a new high-speed rail system that promises a once-way trip from the airport to the Olympic Park in just over one hour.
Picture of Dragon Valley Ski Resort (Wikipedia)
Despite the fact that Korea shares a border with Russia, this feels halfway around the world from Sochi.
Yes, a very different culture, and not balmy!  Will be good and cold :)
The way a Winter Olympics SHOULD be!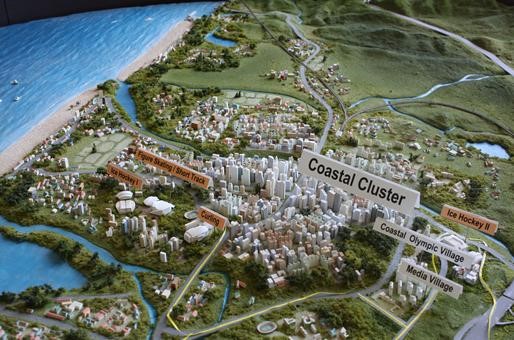 Olympic Withdrawal :(
Beautiful. I'm sad we have to wait 4 years!!
Lots of building is already done.  It would be nice to go, 4 years to plan ;)
Actually, 4 years go by pretty fast. Seems like the Vancouver Olympics were not long ago!