Jeff Bezos' space tourism company Blue Origin just launched sign-ups online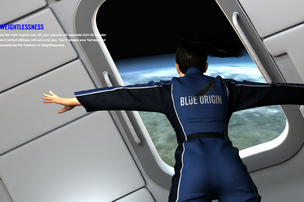 Source: http://upstart.bizjournals.com/companies...
A key feature of the capsule – which carries six people – will be six 43-inch-high windows, giving those aboard a wide view of the Earth below.
The capsule, called the "New Shepard," is set to soar just above 100 kilometers above the Earth at the so-called "Karman Line" that designates the edge of space. It will accelerate at 3Gs and go faster than Mach 3.
All this means the experience will be brief.
"The complete flight is approximately 11 minutes of which you will be able to experience the freedom of weightlessness for about four minutes," said an email from a Blue Origin spokesperson..
Interesting that Jeff Bezos would compete with Richard Branson on this. 
I would have thought they would like to work together.