Did you solve it? Are you a puzzle Olympian? "The mystery games"
(For the purposes of this puzzle, any resemblance to real persons, living or dead, and Olympic sports, actual or obsolete, is purely coincidental.) 
Nafissatou, Jessica, and Brianne are taking part in an athletics competition that involves at least two events. In each event the winner gets G points, second placed gets S points and third place gets B points, where G, S and B are whole numbers, nonzero, and G> S>B. No event is tied. Nafissatou scores 22 points in total. Jessica and Brianne score 9 points each in total. Jessica wins the 100m hurdles. Who is second in the javelin? How many events are there?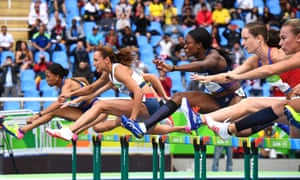 https://www.theguardian.com/science/2016/aug/15/did-you-solve-it-are-you-a-puzzle-olympian
Stashed in:
To save this post, select a stash from drop-down menu or type in a new one: