Once Yahoo controls its search, Yahoo controls its future. Yahoo should buy DuckDuckGo.
Last week I wrote why Tumblr was a massive steal for Yahoo.
Yahoo's acquisition of Tumblr brings an ever-growing network of interesting content to a wide audience.
Yahoo can accelerate trust building with consumers by retraining its audience to search for what interests them -- with search that is uncluttered, untracked, and respects user privacy.
Auspiciously, there happens to be an excellent search engine founded on the principles of no clutter, no tracking, and user respect: DuckDuckGo. The Pennsylvania startup only raised a small amount of money ($3mm from Union Square Ventures and angels) so the price would be reasonable for Yahoo.
DuckDuckGo's founder Gabriel Weinberg, much like Tumblr's founder David Karp, brings the kinds of vision, values, and product taste that are game changers -- for The Web and for The World.
Specifically, the values embodied in the DuckDuckGo service seem quite compatible with those of the new Tumblr / Yahoo civil union: great user experience that is elegant and rewards repeated consumer engagement by giving people what they want, on desktop, tablets, and mobile devices. Synergy possibilities abound because of compatibilities in culture and taste.
Combining people-curated content (Yahoo's original founding premise) with best-of-breed algorithmic search (which Marissa Mayer spent a decade immersed in at Google) would give Yahoo the foundation to grow its user engagement in a way that can also grow revenues through ad keyword targeting.
And suddenly Yahoo's Overture patents bought a decade ago -- which until now are primarily famous for earning a monster settlement from Google -- are relevant again as Yahoo reclaims great branded search.
Yahoo giving up search -- first to Google in 2000, and more recently to Microsoft in 2009 -- was a huge financial and cultural mistake. Once Yahoo controls its search, Yahoo controls its future.
The Wall Street Journal reported a few weeks ago that the Microsoft Yahoo partnership has been a failure so far, with Yahoo pulling in less revenue-per-search than it did when it was on its own.
Hitting specific revenue-per-search targets is a key facet of that deal.
If targets continue to miss, Yahoo will likely break ties with Microsoft. Could be as early as April 2014.
In its most recent quarter, Yahoo reported it pulled in $409 million in online ad revenue from search.
One day they will make a LOT more than that.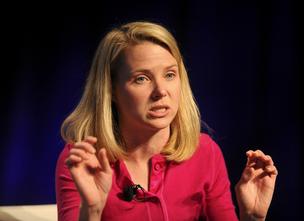 I was part of the team (led design) that built a search competency. We went from searching the directory with google, to searching the web, to our own search engine and overture for revenue. This was a massive shift, and took two years to get the people, skills and more important the organizational understanding to get search working throughout the company. Jeff Weiner, now at Linkedin, led that effort and was an amazing champion of "search thinking" that is way more than just plug and play. Marissa is definitely the right CEO for that, but can she find a Search GM who gets it and can make it happen, because Yahoo is a tricky boat to turn. 
Excellent points -- and it would not surprise me if it took two years again.
On the other hand, there's a wealth of ex Yahoos and Googlers who could be recruited into such an endeavor, so it wouldn't be a standing start.
The "361 patent" is super relevant -- could be time for a YPN revival.
And if I wanted to think REALLY big I might think through the implications of a Yahoo-LinkedIn merger.
Wait, I did that a year ago: