Legendary radio broadcaster Casey Kasem dead at 82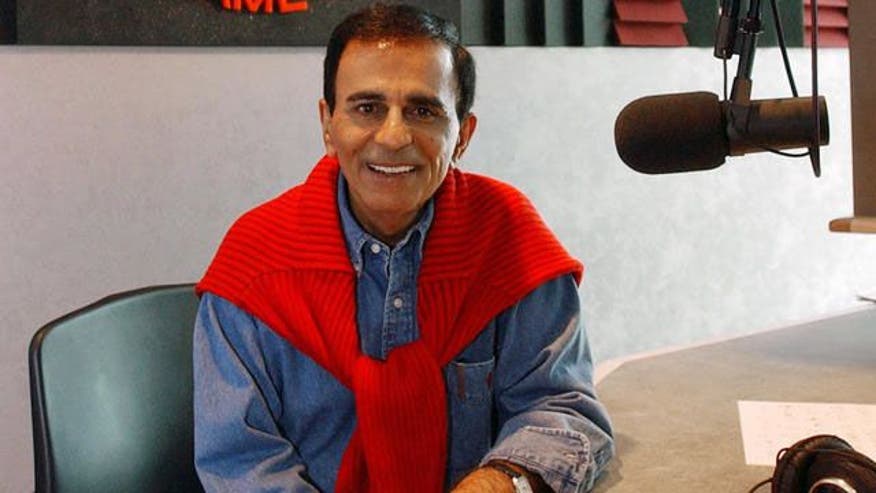 Casey Kasem, the legendary radio broadcaster whose style set the benchmark for Top 40 shows, has died. He was 82.
Danny Deraney, publicist for Kasem's daughter, Kerri, says Kasem died Sunday morning.
"We are confirming that Casey Kasem passed away at 3:23 a.m. this morning at St. Anthony's Hospital in Gig Harbor, WA," Deraney's statement said. "He was surrounded by Kerri, Mike, Julie and close family and friends. No cause of death given. The family will not be doing any press at this time."
Kasem's "American Top 40" began on July 4, 1970, in Los Angeles. The No. 1 song on his list then was "Mama Told Me Not to Come," by Three Dog Night.
The show continued in varying forms -- and for varying syndicators -- until his retirement in 2009. In his signoff, he would tell viewers: "And don't forget: keep your feet on the ground and keep reaching for the stars."
Kasem, who reportedly suffered from Lewy Body disease, was the subject of a contentious family battle between his second wife Jean and his three adult children from his first marriage over his care.
Kasem's death comes just days after a judge granted his daughter, Kerri Kasem, the authority to withhold medication, food and fluids from her ailing father.
In the ruling last Wednesday, attorney Troy Martin said, Superior Court Judge Daniel Murphy determined that giving Kasem food and fluids would be harmful and cause more pain for the 82-year-old former radio personality.
His daughter Kerri initially implemented the end-of life measures on June 6.
It was a sad, startling end for a man whose voice had entertained and informed music lovers worldwide.
"American Top 40" expanded to hundreds of stations, including Armed Forces Radio, and continued in varying forms -- and for varying syndicators -- into the 21st century. He stepped down from "American Top 40" in 2004 and retired altogether in 2009, completing his musical journey with Shinedown's "Second Chance."
It was emblematic of his sentimental appeal in an otherwise raucous business. While many DJs convulsed their listeners with stunts and "morning zoo" snarkiness, Kasem would read "long distance dedications" of songs sent in by readers and introduce countdown records with sympathetic background anecdotes about the singers.
"The idea from the beginning was to do the type of thing on radio that Ed Sullivan did on television, good, honest stories with human interest," he told the Los Angeles Times in 1975.
Succeeding him at the main "American Top 40" show in 2004 was radio and television personality Ryan Seacrest, who has said he had been a fan of Kasem since boyhood and would imitate him in pretend countdown broadcasts at age 9.
Kasem's legacy reached well beyond music. His voice was heard in TV cartoons such as "Scooby-Doo" (he was Shaggy) and in numerous commercials.
"They are going to be playing Shaggy and Scooby-Doo for eons and eons," Kasem told The New York Times in 2004. "And they're going to forget Casey Kasem -- unless they happen to step on his star on the Hollywood Walk of Fame. I'll be one of those guys people say `Who's that?' about. And someone else will say, `He's just some guy who used to be on the radio."'
The son of Lebanese immigrants, Kasem was active in speaking out for greater understanding of Arab-Americans -- both on political issues involving the Mideast and on arts and media issues.
"Arab-Americans are coming out of the closet," Kasem told The Associated Press in 1990. "They are more outspoken now than ever before. People are beginning to realize who they really are, that they are not the people who yell and scream on their nightly newscast."
Kasem was born Kemal Amin Kasem in 1932 in Detroit. He began his broadcasting career in the radio club at Detroit's Northwestern High School and was soon a disc jockey on WJBK radio in Detroit, initially calling himself Kemal Kasem.
Stashed in: R.I.P.
To save this post, select a stash from drop-down menu or type in a new one:
It blows me away that he played stoner Shaggy on Scooby Doo. 
I didn't know that one either, till this article.
Apparently he was very proud of it. 
I didn't realize he was from Detroit. That surprises me too.