Next Twitter boss faces complex challenges, says departing Dick Costolo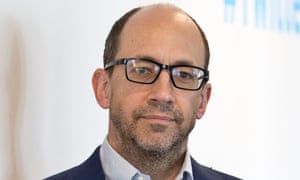 Source: http://www.theguardian.com/technology/20...
Costolo argued that Twitter had stuck to a "cohesive long-term strategy" and said there were plans to make the service more accessible during live events, whether sporting finals or breaking news.
He referenced Lightning, a new set of features intended to enable better curation and promotion of live content on Twitter. "People have been asking why I didn't do that four years ago," he said. "Four years ago, the site didn't even stay up. We were the only big site on the internet whose 404 [error message] was its own brand – the fail whale."
In Costolo's five years as chief executive, Twitter has transformed from a private company with 300 staff valued at $3.7bn to a public company with 3,900 employees valued at $23.5bn.
Stashed in: Twitter!, @dickc, Twitter
To save this post, select a stash from drop-down menu or type in a new one:
It sounds like he's saying that he was going to do stuff but first he had to fix fail whale.
And now the new CEO won't have to deal with fail whale so now they have the ability to do stuff.