Elon Musk Twitter rant a 'case study' in how not to handle a crisis, experts say
"What a CEO should do when there's a death associated with one of his company's products is respond, first and foremost, with compassion, and then with words that express competence and confidence,"
"Quoting statistics that explain why the death isn't so bad in the big picture has been proven time and time again to be quite ineffective in influencing public opinion," he added." Jonathan Bernstein of Bernstein Crisis Management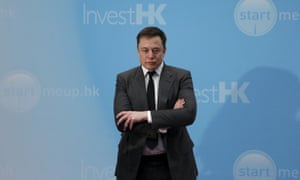 https://www.theguardian.com/technology/2016/jul/07/tesla-elon-musk-autopilot-death-crisis-management
Stashed in: Twitter!, CEOs, Business Advice, Awesome, Compassion, @elonmusk, Emotional Intelligence, FAIL, Elon Musk, Tesla!, Apologies
To save this post, select a stash from drop-down menu or type in a new one:
Does Elon not realize he should respond with compassion?
An engineer to the core...
"... Tesla released a blogpost which opened by defensively pointing out that Brown's death was "the first known fatality in just over 130 million miles".
And on Wednesday in another blogpost, the company described Brown's death a "statistical inevitability".
And these actions don't help, either...
This week, Musk also joined the fray in emails to a journalist from Fortune magazine, claiming that half a million lives would have been saved last year if all cars were fitted with autopilot.
The journalist was asking questions as to why Tesla notified the NHTSA immediately of the accident but waited roughly a month – until regulators opened an investigation – before announcing it to the public.
As Fortune reported, that delay is key because 11 days after the accident but just over two weeks before it was made public, Tesla and Musk sold $2bn of Tesla stock.
After the magazine published the article, Musk posted on Twitter again to attack it, saying that the accident "was material to you – BS article increased your advertising revenue. Just wasn't material to TSLA, as shown by market".
I hope he learns empathy from this experience. 
I hope so, too. Another statistical inevitability is that Tesla fatalities/accidents will happen again.
I altered my thinking: 
Adding "learn compassion" to a To-do List isn't necessary — besides probably not being effective. This is a function of a public relations department.
Tesla is linked, almost by definition, to Musk. A brief statement from him at first is vital (not saying anything comes off as passing the buck). It could be just a simple one-sentence comment using "we" (thereby marking the separation of people from  "it", the company) and then deferring to PR.
Well then they should coach him to use "we" more often.