Apple gets patent for remotely disabling iPhone cameras, raising censorship fears
"An infrared emitter can be located in areas where picture or video capture is prohibited," the patent reads. "An electronic device can then receive the infrared signals, decode the data and temporarily disable the device's recording function based on the command."
The technology could also be used to beam information to a lot of people's phones at the same time when they're in the same location, Apple says, such as people touring the art installments in Chicago's Millennium Park.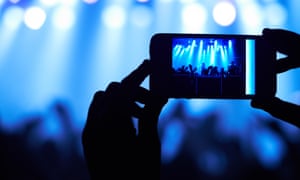 https://theguardian.com/technology/2016/jun/30/apple-iphone-camera-disable-remote-sensors-patent
To save this post, select a stash from drop-down menu or type in a new one:
What about putting a bit of aluminum tape over a phone's sensors to block out the infrared signals that can block out the cameras?
"If Apple creates a way for third parties to control when certain iPhone features work, how will Apple control who has access to that technology?"
Makes me wonder if we can trust Apple.