Giant 'corpse flower' begins to bloom for first time in five years
Named Morphy, the titan arum housed at Dartmouth College began opening on Friday afternoon at the Ivy League college's life sciences greenhouse. The 7 ½-foot (2.3-metre) flower is expected to be fully open on Saturday before it starts to collapse the next day.
The college in New Hampshire has even set up a webcam to enable people to monitor its progress.
Morphy has a long pointy stalk with a skirt-like covering. It's green on the outside and deep red on the inside when it opens.
Kim DeLong, the greenhouse manager at Dartmouth, said Morphy was starting to smell like a burning cigar on Friday afternoon. At full strength, its odor has been described as a cross between a decaying animal and urine.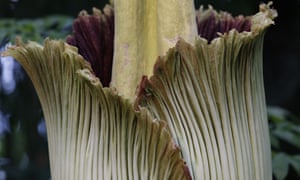 https://www.theguardian.com/environment/2016/sep/24/giant-corpse-flower-begins-to-bloom-for-first-time-in-five-years
Stashed in: Plants!
To save this post, select a stash from drop-down menu or type in a new one:
Should I be afraid of this plant?
Only when it wants to be fed and your name is Seymour ;)