Gut bacteria make most of the serotonin in your body.
Stashed in: Facts, #happiness, Science!, Wizard of Oz, Decisions, Dinosaurs!, Brain, Awesome, Nutrition!, Brain, health!, @emilykatemoon, Microbiome, Oxytocin, Nuggets, Bacteria
To save this post, select a stash from drop-down menu or type in a new one:
whaaaaaaat?!?!  that is a crazy number!  and they are making me release happy chemicals??
And yes, your guts release 95% or more of your serotonin:
http://apa.org/monitor/2012/09/gut-feeling.aspx
Here's the fun part -- your guts really are a second brain!
So when you make a decision, going with your brain or going with your gut instinct really is a thing!
how interesting!  i love it when my gut tells me something different from my brain...
and yes, there must be a microflora hero that specifically targets the evil candida!
Do you like when decisions come down to brain vs guts?
I swear the heart has its own brain too.
We need to do some research into microflora to find a good name for our children's story.
I think we have a winner here!
actually, no, i don't like it when it comes down to my gut, especially when it contradicts my brain, because it usually means it is a big and scary decision.
but i do think my gut knows best.  and i agree with you that the heart has its own force too.
when i was a kid i learned that the really big dinosaurs had a second brain in their tail -- a nerve bundle that controlled the lower half of their giant body!  must be similar to our gut....
and, yes, i love our children's story!!  we are definitely on to something!
Here's a gut bacteria image from Getty you can use to make more memes: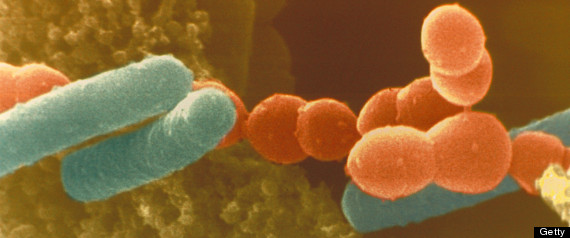 I found that image here:
http://www.huffingtonpost.com/2013/09/16/gut-bacteria-influence_n_3908465.html
wow, adam, i LOVE the article you wrote about using our brain, heart and guts!
(i also love the above image of the bacteria in our gut! what a lovely color combination they make!)
So glad you like it! And yes, colorful bacteria are happy bacteria.
It means when we make the animated version of our "bacteria are heroes story" it will be colorful too!